The following text is an excerpt from the "European Food Trends Report 2021", that can be ordered on our website.
In an entangled world we need joined-up thinking. With current developments what future is possible for our food system? How can we produce, process, and distribute food so that everyone gets enough of the right foods, not too much of the wrong ones, and supplies are available at the right time and place? Without neglecting environmental stability? And how can we induce people to adopt lasting changes in behaviour? The GDI's "European Food Trends Report 2021" illustrates what the future could look like in three scenarios – Stubborn Optimism, Radical Regeneration and Hard Regulations.
This scenario is dominated by tech optimism. The food system does not essentially change but all stages of the value creation network become more intelligent, more efficient and more productive. The prevailing narrative here is that all problems can be solved with the right technology.
We still live beyond our means and consume too much. However the production and sale of consumer goods, aided by smart technologies, are becoming more sustainable and less of a burden on the environment, nature, and the climate.
Consumption is meanwhile being controlled and optimised by automated eating, networked systems, algorithms, and artificial intelligence. The body's needs are constantly monitored, nutrition plans created and the right nutritional solution worked out in real time. This promotes health and reduces various diseases of civilisation that result from the industrial food of the West. The separation between technology and nature remains stuck in people's minds. Nature is supposed to be protected by technology. Awareness of the entanglement of all organisms on the planet is however still extremely low.
Learn more about this scenario and the possible futures of "Radical Regeneration" and "Hard Regulations" in the "European Food Trends Report 2021".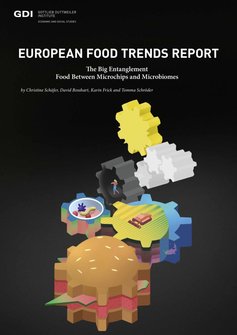 GDI Study No. 50 / 2021
Languages: German, English
Format: PDF, 50 pages