The following text is based on an excerpt from the current "European Food Trends Report", available on our website.
It is conceivable that we will no longer be consuming any animal products by 2050. A good argument can be made that ways will be found for people to eat a purely vegan diet without having to give up anything – neither their health nor the enjoyment of food – while causing less damage to the environment, nature and animals. Maybe we will look back in 30 years and shake our heads, wondering how we could have justified killing animals for our food and keeping them in pens?
Start-ups everywhere in the world are working on finding the perfect replacement for meat from plant proteins. These products should be similar to the original animal product in look, taste, smell, consistency and cooking methods, regardless whether these are beef burgers, chicken strips, raw tuna, mayonnaise or cheese.
Impossible Foods is one such start-up which has revolutionised the burger. Its objective was to create a perfect burger from 100 percent plant ingredients that cannot be distinguished from a beef burger. The breakthrough was the discovery of «heme». This is the molecule that makes meat taste like meat. Impossible Foods produces plant-based hemes by fermenting genetically modified yeast, thereby creating the meaty taste of the plant-based burger. Other companies working on the perfect plant burger from peas, beans and other protein sources include Beyond Meat, Nestlé, Unilever, Kellogg's, Tyson Food and Hilcona. The GDI infographic provides an overview of companies and brands that want to challenge meat consumption with plant-based proteins: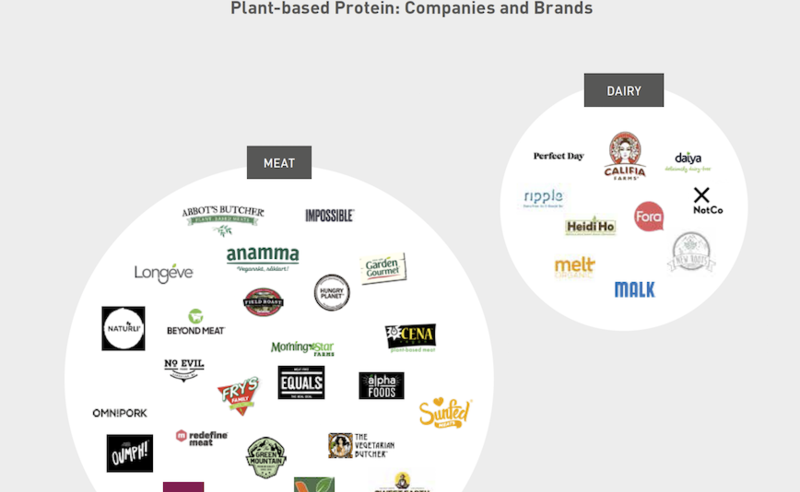 Plant proteins represent a booming growth market. According to Euromonitor International, the market for meat alternatives in the US is worth around 1.44 billion US dollars. This market is expected to grow by 74 percent to 2.5 billion US dollars by 2023. These numbers are impressive, but compared to the US meat and poultry industry, which is expected to grow to 100 billion US dollars by 2021, the meat alternative business is still minuscule.
In the end, the deciding factor will be where the plant-based meat alternatives can be found in the supermarket (or on the menu in the restaurant). Will they be marketed as vegan products and shelved with the almond milk, tofu, seitan and Quorn? Or will they be offered at the meat counter, together with the beef, poultry, lamb and pork?
Another important criterion for a breakthrough is price. As long as plant-based alternatives are more expensive than the cheapest conventionally produced meat, vegan offers are hardly likely to change consumer habits. But as soon as plant protein is cheaper than any kind of meat at the supermarket counter, this innovation has the potential for a disruptive breakthrough.
GDI-Study No. 47 / 2019
Languages: German, English