The GDI has an ideal space for every occasion from three to 300 participants – inside, or even outside on our "Lake Terrace" or on the lawn of the well-known "Dutti Park". All our rooms are multi-functional and can be equipped and set up to your requirements for your maximum flexibility.
A new sensor system monitors the air in all GDI rooms and ensures better health, performance and well-being. Our air sensors meet the requirements of the Swiss national Covid-19 task force and better protect people from indoor virus transmission.
Download: Raumübersicht - GDI Eventlocation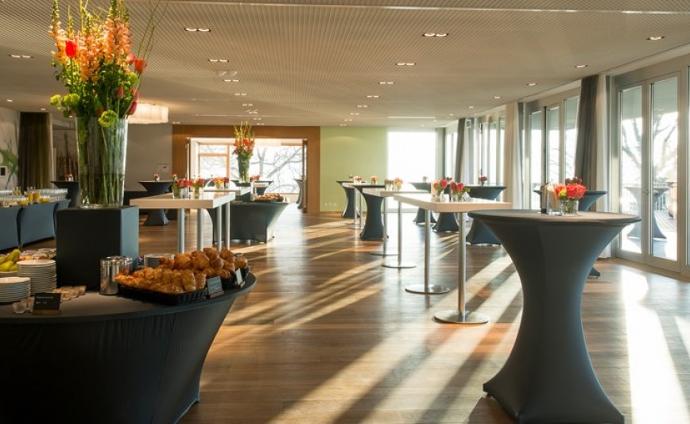 Restaurant + Meeting Room 1
The restaurant can be extended by the adjoining Meeting Room 1 to provide more space for your guests and a wider view of the lake.
Cocktail, Banquet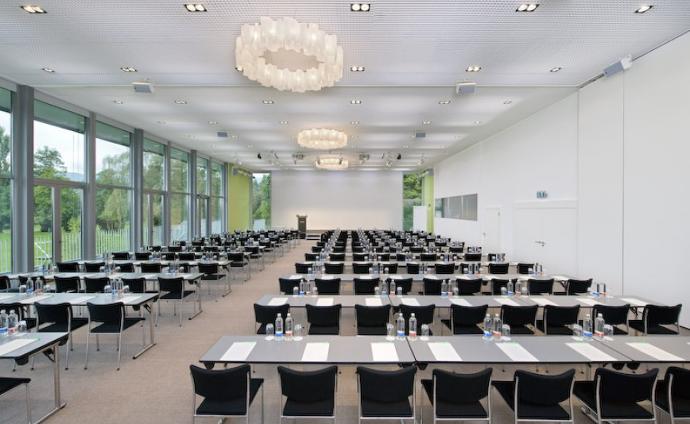 Conference Room 1 + 2
Built in 2008, the largest space in the GDI offers a view of the park, Lake Zurich and across to the Alps. It is equipped with state-of-the-art audio-visual technology. The terrace gives visitors direct access to the Garden Lounge.
Seminar, Concert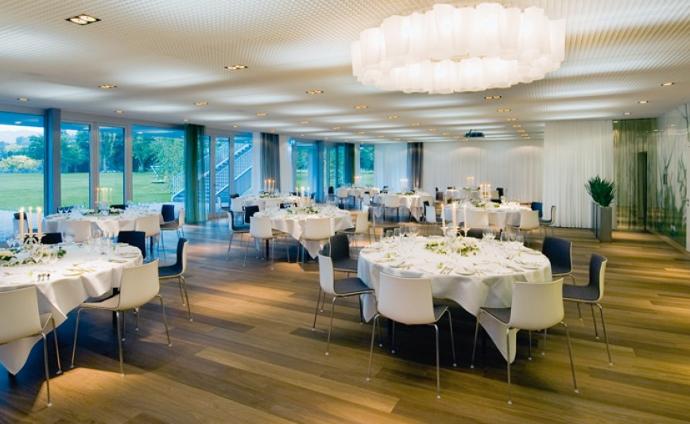 Restaurant
The restaurant with its unique lighting and homely atmosphere opens onto the Park «Im Grüene», so that in fine weather guests can just step outside.
Cocktail, Banquet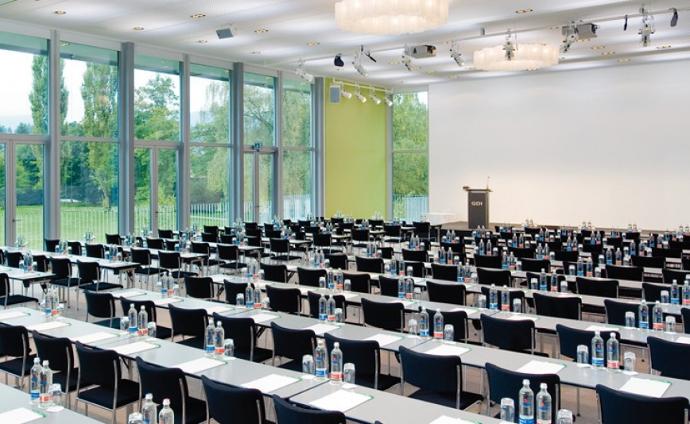 Conference Room 1
For events with less than 200 participants the large GDI conference room can be divided into two smaller, fully independent conference rooms.
U-Shape, Seminar, Concert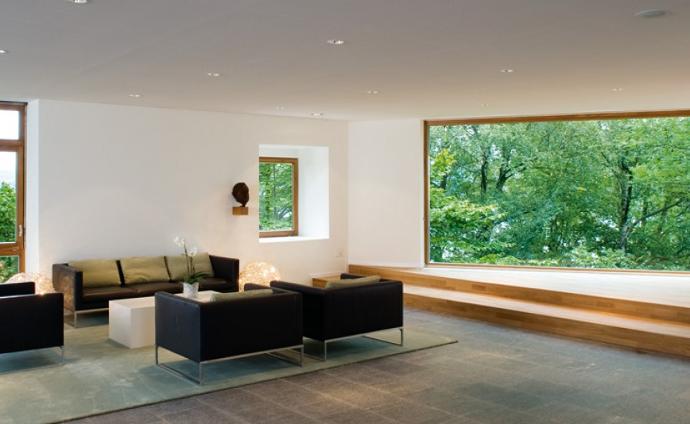 Foyer B
The reception area of the GDI can accommodate registration counters and coat stands; it is unlikely that your guests will ever have been received in a more beautiful setting.
Cocktail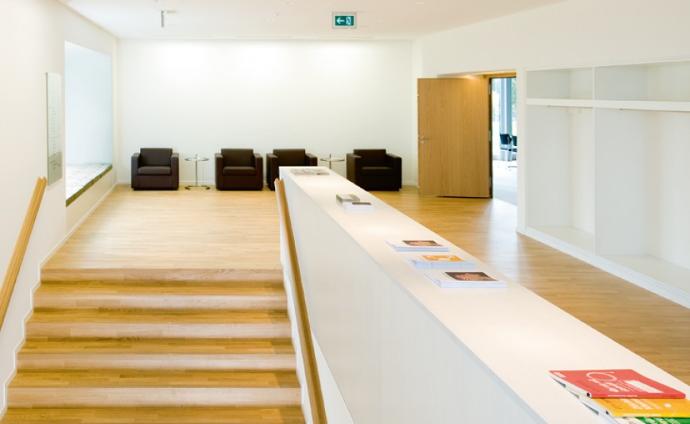 Foyer A
The magnificent view of the lake, the «gold coast» and Zurich provides an exceptional ambience for breaks.
Cocktail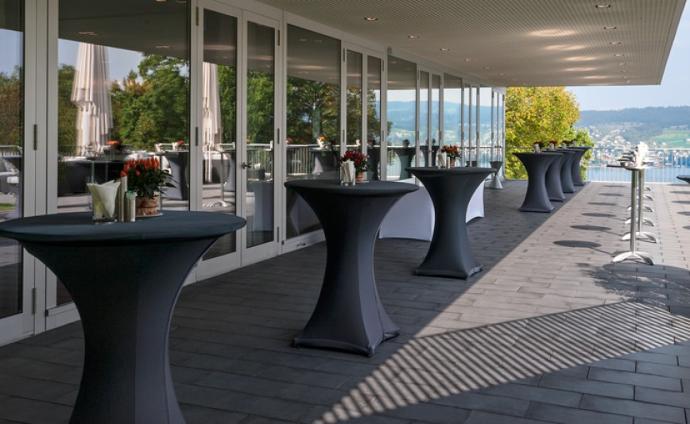 Park Terrace
Enjoy your breaks al fresco at our cocktail tables or in our lounge. The sunshades are waiting for you!
Cocktail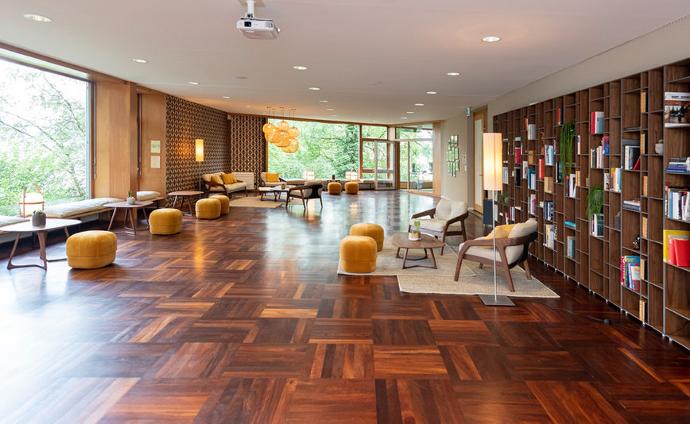 Library
The library once housed the books of our researchers. In the meantime, we have freed up the space for our guests. That said, a few books have been left for interested guests.
U-Shape, Seminar, Concert, Cocktail, Banquet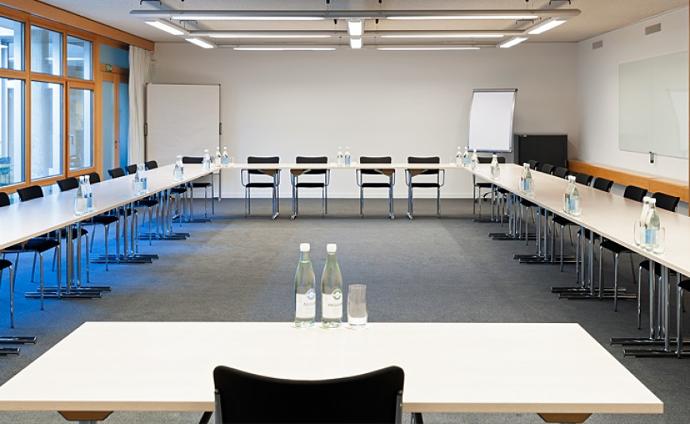 Meeting Rooms 7 + 8
Meeting Rooms 7 and 8 are separated by a mobile partition, which can be opened as needed to provide space for up to 80 persons.
U-Shape, Seminar, Concert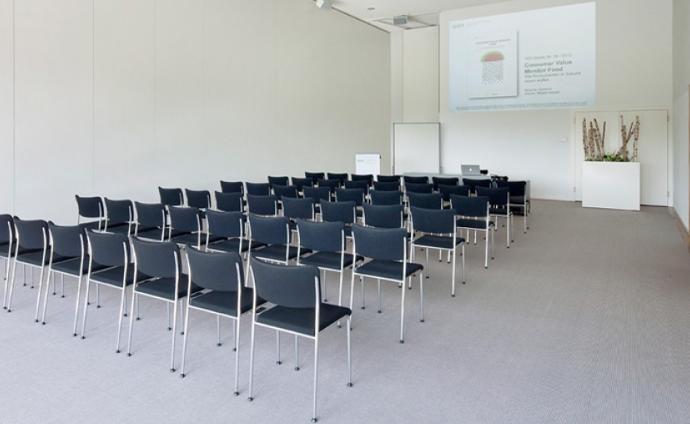 Conference Room 2
The smaller of the two separate conference rooms, Conference Room 2 is ideal for large groups of up to 90 participants. Here too, users of the conference room have a view of and access to the park.
U-Shape, Seminar, Concert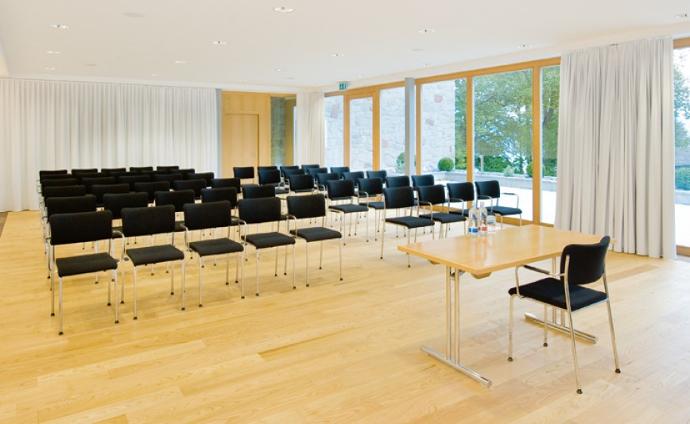 Meeting Room 3
The latest addition to the GDI rooms offers a view of the lake and direct access to the terrace, a gem of a room.
U-Shape, Seminar, Concert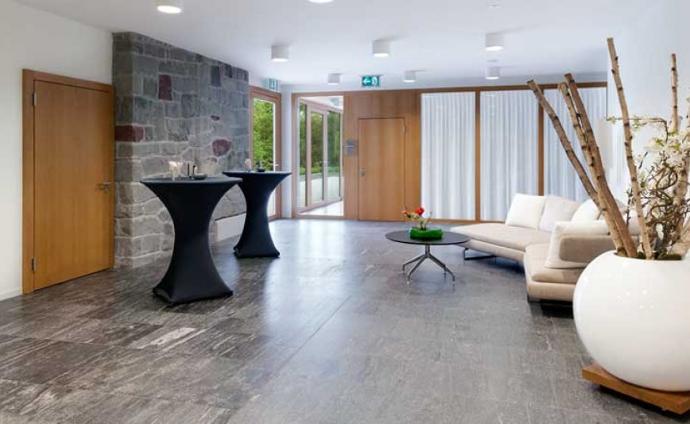 Foyer C
The foyer outside of rooms 2 and 3 are ideal for your coffee break, standing lunch or aperitif.
Cocktail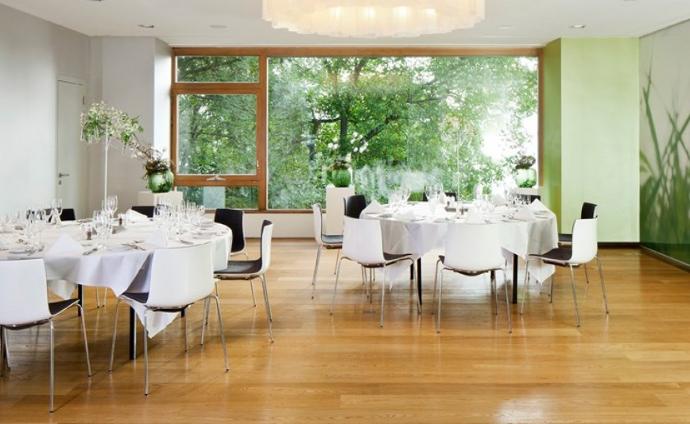 Meeting Room 1
This is where Gottlieb Duttweiler's widow Adele used to meet the governing body of the «Im Grüene» Foundation. The unspoilt view of the lake must have been enchanting already at that time.
U-Shape,Cocktail. Banquet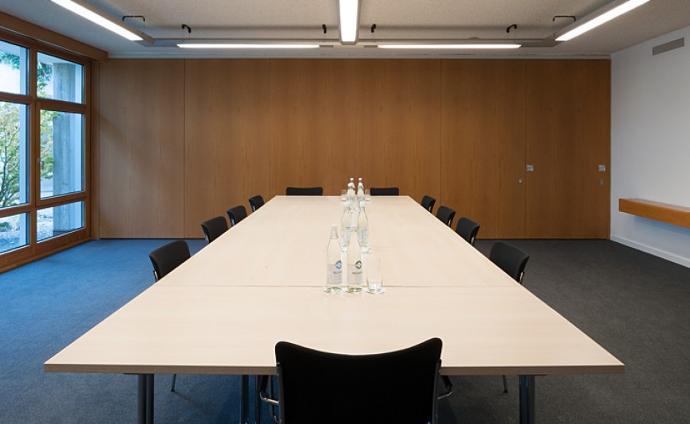 Meeting Room 7
Friedrich Dürrenmatt's speech in this room in honour of Václav Havel in 1990 aroused a great deal of interest well beyond Switzerland's borders. This room was later named after the Swiss author.
Block table, U-shape, Seminar, Concert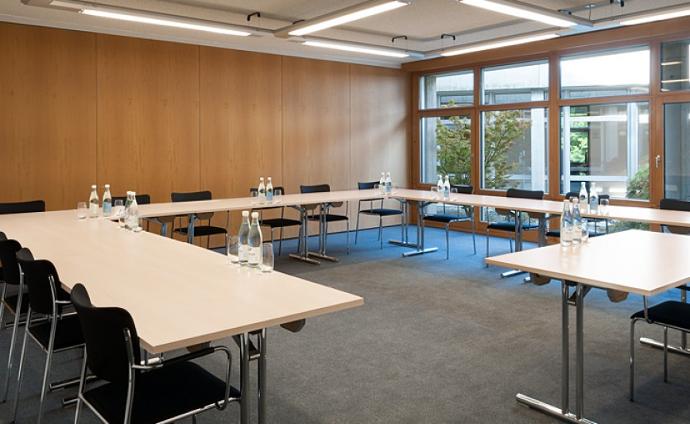 Meeting Room 8
In 1990 the Gottlieb Duttweiler Prize was presented to President Václav Havel of Czechoslovakia here in Rüschlikon. On that occasion this room was named after him.
Block table, U-shape, Seminar, Concert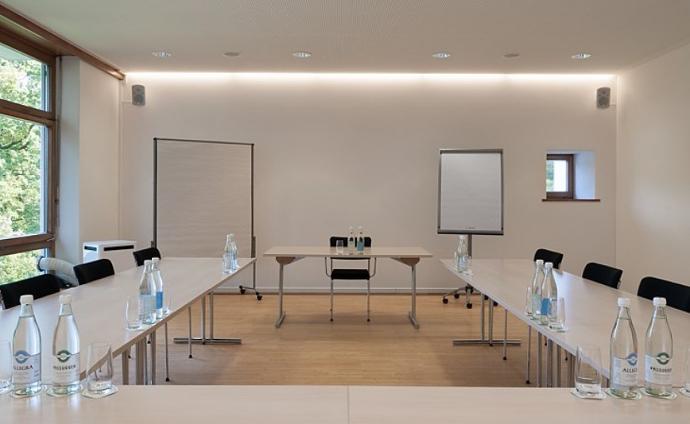 Meeting Room 2
This generous room high above Lake Zurich is particularly suitable for groups of 20 participants and is popular for seminars.
Block table, U-shape, Seminar, Concert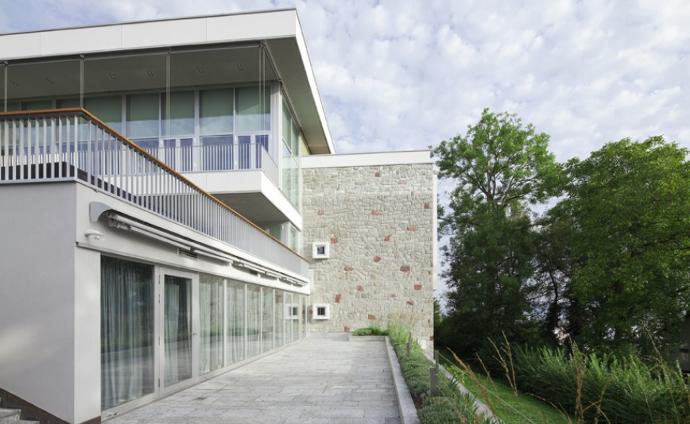 Lake Terrace
On days when the weather is warm you can take your breaks in the fresh air, around bar tables if you wish, or on our lounge furniture. The sun shades are ready!
Cocktail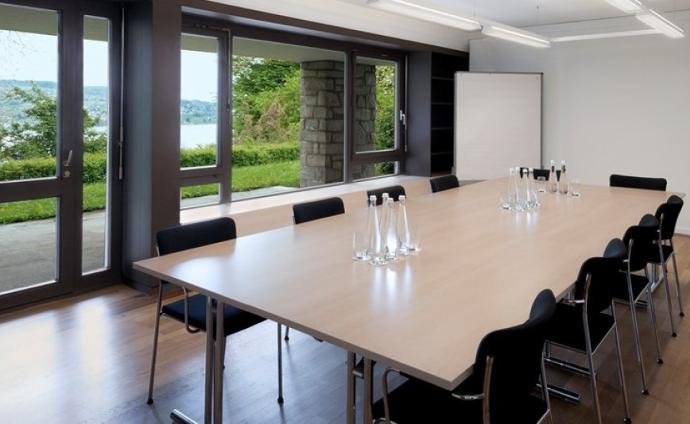 Meeting Room 5
This meeting room has its own romantic terrace for breaks, making it the ideal space for small creative workshops.
Block table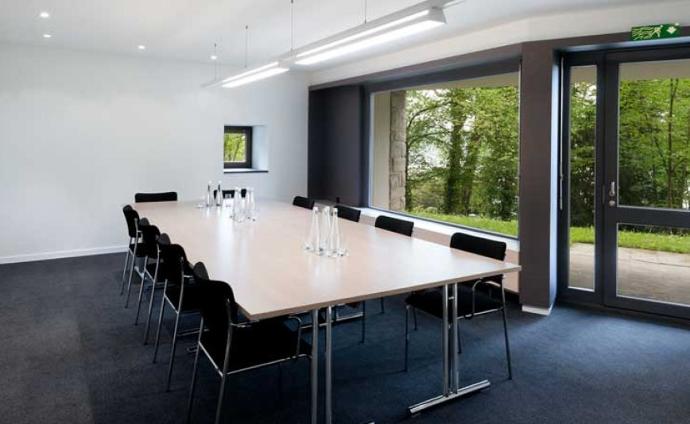 Meeting Room 4
This room is located directly below the function rooms and is often used for interviews during GDI events. Not surprisingly, it has been used by a number of prominent guests: Jeremy Rifkin, Malcolm Gladwell, Richard David Precht...
Block table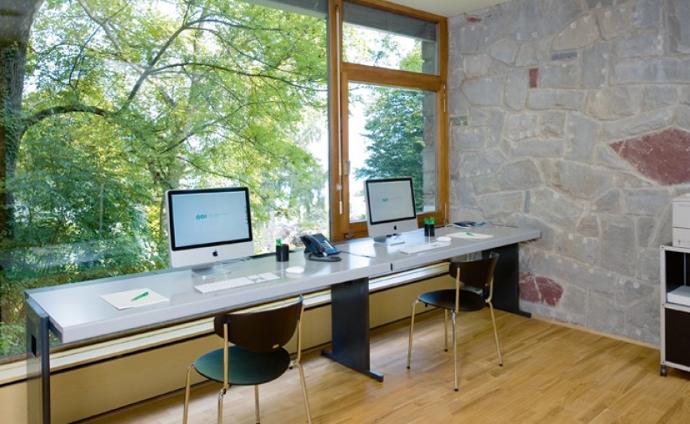 Media Centre
Unmittelbar neben der Bibliothek steht unseren Gästen ein mit Computer und Drucker ausgerüstete Arbeitsplätze zur Verfügung.
Seminar