The Story of Unstoring (PDF), 2010, d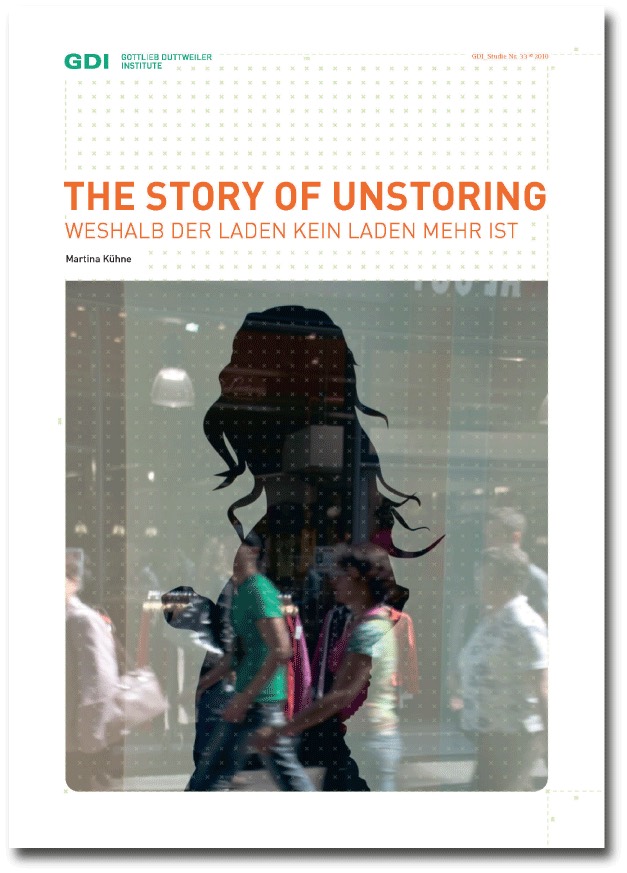 The Story of Unstoring (PDF), 2010, d
Weshalb der Laden kein Laden mehr ist
Autorin: Martina Kühne
GDI Studie Nr. 33
Sprachen: Deutsch, Englisch
2010
The Story of Unstoring
Weshalb der Laden kein Laden mehr ist
Als Amazon 1995 online ging, war die Skepsis gegenüber dem neuen Vertriebskanal gross. Wer sollte Bücher online bestellen, wenn sie doch im Laden zu kaufen waren? Fünfzehn Jahre später wissen wir: das tun viele und immer mehr. Der stationäre Handel verschiebt sich grundlegend Richtung Online.
Was bedeutet es für Buchläden, aber auch für Fachmärkte, Shopping-Centers oder den «Tante Emma-Laden», wenn der Siegeszug des Internets anhält? Wenn sich der Cyberspace immer mehr von der Virtualität in die physische Ladenwelt ausbreitet? Wenn sich nicht mehr bloss Umsätze, sondern ganze Realitäten verschieben?
Keine Angst, die GDI-Studie «The Story of Unstoring» erzählt nicht die Geschichte vom Ende des Ladens. Sie erzählt die Geschichte seiner Zukunft: Wie sich der klassische Point of Sale im Zeitalter des Internets behaupten kann. Wie sich Bricks und Clicks in einer Art ergänzen, die dem stationären Handel eine Zukunft gibt. Und was das überhaupt noch sein wird, ein Laden.